It has bee-n a good year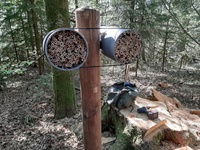 In 2020 the B3 and B4 projects worked together to deploy 536 trap nests on the ConFoBi plots, hoping to find out which cool cavity-nesting Hymenoptera we can find in the Black Forest.
The Corona field season in spring was a challenge that brought us to the breaking points of our nerves and turned out to be physically even more straining than expected. Sliding down steep slopes, fighting our way through jungles of blackberry, climbing over slippery boulders and all that with massive two-meter-long wooden poles and sledgehammers on our backs… who could have ever seen that flaming backpain and total depletion of strength coming? We started in the snow and fought against the time to finish before the increasingly warm weather initiated the breeding season of the early rising species. Our workload was insane but the warmth of the last sun rays on your face after a long day of hammering and getting lost on forest roads leaves an incomparable feeling of satisfaction that I would not have wanted to miss.
Luckily, we had the whole summer to recover from the spring and started into our fall season with renewed energy and motivation, excited to collect our traps. The weather development was pretty much reversed this time, we started with the sun shining and beautiful warm weather … and ended up soaked and frozen. Nonetheless, every plot crossed of the list gave us new energy to continue and every time we found a reed plugged with a new nesting material we became more eager to finally be able to look inside. Overall, we only lost a handful of traps and the final output is still amazing for a project of this scale.
When we started into this project Nolan and I barely knew anything about each other, except that we will have to be in this together to make it work. Now, after over 6000km of driving, getting the bus (almost) stuck on gravel slopes, bashing kneecaps on boulders, getting our faces whipped by the forest and successfully finishing our fieldwork during a global pandemic we are still in this together and can look forward to another fun year with the cavity-nesting Hymenoptera of the Black Forest project.
On that note, I bee-live it wasp a good year, cheers!
by Laura-Sophia Ruppert (B4)