Interdisciplinary research on Biological Diversity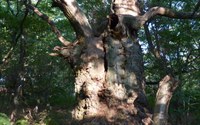 The Convention on Biological Diversity (CBD) represents an important step forward in the conservation of biological diversity, the sustainable use of its components, and the fair and equitable sharing of benefits arising from the use of genetic resources. A prerequisite for the concrete implementation of the CBD's goals is the support and promotion of actor- and problem-oriented, interdisciplinary research. To this end, the German Federal Agency for Nature Conservation (BfN) annually offers a platform to young scientists for presenting and discussing current research in topic areas covered by the CBD. In 2018, ConFoBi-PhD student Bettina Joa was invited as one of 35 young scientists from a wide variety of disciplines to present her research at the International Academy for Nature Conservation Isle of Vilm. In her lecture about "The relevance of local ecological knowledge for the conservation of forest biodiversity" she presented results of a private forest owner survey conducted in the Southern Black Forest. The study addresses the question of which conservation measures forest owners implement in their forests and what role their local ecological knowledge, amongst others, plays in this.
The conference proceedings now available (https://www.bfn.de/fileadmin/BfN/service/Dokumente/skripten/Skript527.pdf) reflect the scientific contributions presented in eleven thematic blocks. The topics range from environmental education, environmental law, ecosystem services, to agricultural, marine and forest biodiversity. The variety of research questions and interrelated issues shows that biodiversity conservation challenges need to be tackled across disciplines and institutions. With its interdisciplinary approach, the ConFoBi-project provides an important scientific contribution to that end.
by Bettina Joa (C2) 24.06.2019