ConFoBi Retreat 2019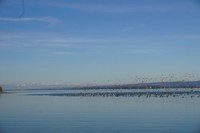 What might sound like holidays is actually real work. ConFoBi is an interdisciplinary program, which includes a wide range of disciplines. On a daily bases, it is not always easy to bring everybody together to connect the different insights. Therefore, we spend every year one week away from the office live and hide on a more remote place to work intensively and closely together. Packed with our whole office equipment, we spend this years' retreat at the Naturfreundehaus Bodensee, directly on the bench of Germany's greatest lake.
Beside short meetings with everybody to update ourselves about the progress of our single and joint projects, smaller working groups come together to discuss future projects, analyze data or even finalizing manuscripts. Even if the millions of birds on the lake, the view to the snow-covered Alps and the marvelous sunshine are quite distracting, we are working intense until the late evening and getting things done that often do not make it up in the list of priorities.
Beside the scientific work, we are coming closer together as a group of colleagues and friends, bridging the goals of teambuilding and being productive in one event.
by Julian Frey (A1)