ConFoBi goes IUFRO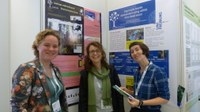 During the last week, Freiburg had the honor of hosting the 125th Anniversary Congress of the International Union of Forestry Research Organizations (IUFRO), one of the world's oldest international scientific organizations. And right in the middle: Numerous ConFoBi PhDs giving exciting lectures and presenting inspiring posters.
On Monday, Marco presented his current research in a session about New advances in the assessment and restoration of habitat structures in forests with a lecture on The conservation of forest structural complexity through retention forestry: a bird's perspective. In a parallel session about The Role of Social Science in Forestry and Forest Management, Bettina presented the results of her literature review on Local ecological knowledge and its relevance for forest biodiversity conservation. The audience of her session learnt that this kind of knowledge and related forest management practices have not been empirically analyzed in a central European context. Addressing this research gap, Bettina's work in ConFoBi will contribute to a better understanding of what role local ecological knowledge can play in conserving biodiversity in managed forests. In another parallel session dealing with European Climate Smart Forestry, ConFoBi was also present in a joint contribution on Regional forest productivity and economy designate European Climate Smart Forestry in which Andrey collaborated.
On Wednesday Ronja talked about Materially engaging with the forest - Doing research on body practices in forestry. She presented 7 statements on methodological consequences of dealing with materiality in qualitative research, concluding that material elements and incorporated knowledge are important dimensions, structuring the daily work of professionals in forestry. In order to be able to understand this important dimension of social reality, she emphasized the need to develop qualitative research methodology further. Thomas concluded the ConFoBi presentations on Thursday evening with a lecture on Silvicultural practices for wild pear in a session about The importance of minor tree species in future.
Creativity was in demand for the poster presenters in order to stand out against the huge amount of posters. On Monday, Julian presented his current work about The Linkage of Scales in Remote Sensing Biodiversity Assessment in Forests. He came to the conclusion that vertical histograms generated from pointclouds from terrestrial laser scanning and UAV photogrammetry can be combined, even if the georeferencing has an unknown error, by using a weighting function according to the sensors perspective. Diane used her poster to deal with the question Which microhabitats are integral for epiphytic species diversity in retention forestry? She emphasizes the suitability of epiphytes as indicators of environmental changes, whereby light could be an important variable in understanding epiphytic diversity and the tree canopy is an important resource for epiphytes that however is usually over-looked.
On the final conference day, two further ConFoBi posters were presented by Marlot (Landscape-moderated use of forest structures by bats) and Nathalie (eDNA of dead wood samples for assessing saproxylic beetles), who proved that the method of eDNA enables the extraction of beetle DNA from dead wood.
After an inspiring and exciting week of listening to lectures, plenary sessions and keynotes, giving presentations, watching posters, networking and discussing a wide range of forest biodiversity related topics, we are more than ever convinced that conserving forest biodiversity is one of the most pressing global issues. Let's work on it!
by Bettina Joa (C2)