Update from the B3 Project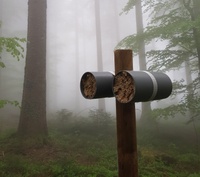 Today was my last day deploying insect traps to collect bees and wasps on ConFoBi plots in the Black Forest. It has been a long and difficult field season, full of unexpected events. Even before the Corona crisis, the workload was extremely high and required careful planning. Handling of fieldwork during the crisis has been difficult, but the opportunity to continue working during this time was invaluable and deeply appreciated. We had to make a few changes to our schedule and process but were able to continue working effectively and most important: safely.
Above is a photo of the pole holding two traps, with the Northwest plot corner (marked with blue lines) visible in the background. Poles are placed at the Northwest and Southeast sides of plot centers with two traps on each pole for a total of 536 traps on ConFoBi plots. Traps were fixed in place using white banding and wood screws. They were supported by additional straps or ropes on the lateral sides to further secure them. All this was to ensure that the traps deployed in spring will remain standing until they are collected in fall. We began early, but thankfully we were still able to bring traps out into snowy high elevation plots!
Deploying 536 traps over 134 forest plots is logistically difficult, and carried numerous delays that normally accompany fieldwork (missing supplies, wrong turns etc.). Fortunately, we were able to finish bringing traps into the forest in time. This was a major concern as the insects I sample have rather narrow periods of activity and cannot be sampled after that has ended. I had already observed numerous bees active on plots well ahead of their normal times, likely due to the early onset of spring this year. Above is a photo of a mason bee in the Genus: Osmia. In forests of this region, these bees are typically not active until the end of April. At higher elevations, their activity times are even later than that.  That photo was taken on April 16th, at a plot with an elevation of 896 meters. From this and observations of flower growth, I estimate that the spring of 2020 began 2-3 weeks earlier than normal.
All the work will all be worth it, the bees and wasps I aim to collect will provide us with huge amounts of information on insect communities and insect functional groups in forests. They are also beautiful and it is fascinating to see them emerge from cocoons inside of the traps you built.
It was very foggy in the higher forests this week. A cold spell turned this fog into ice, and it snowed at higher places in the Black Forest. Luckily one of the last plots (Plot 003, center mark in a photo above) to visit was at such an elevation, and I was able to see the scenery of a frozen forest.
As the sun radiated the tree tops, snow melted and steamed into the air and water trickled down their bark to swell streams on the ground. It was a truly fantastic feeling and a privilege to be able to work in such a gorgeous place.
by Nolan Rappa (B3)